Drawing of
ANSI 54-4 33kV Guy Strain Insulator Porcelain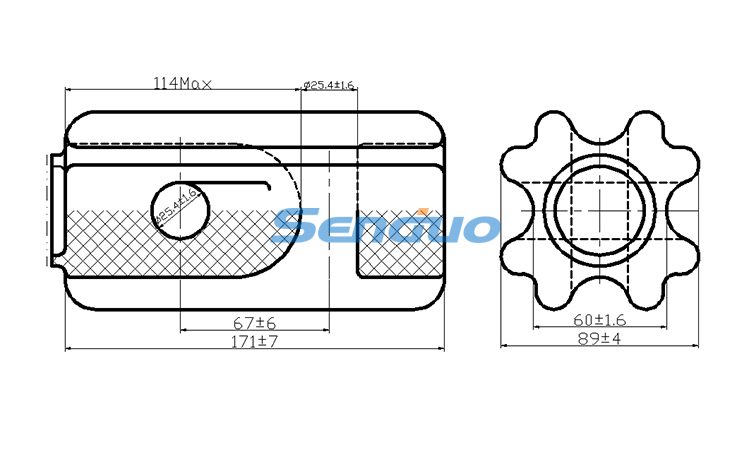 | | |
| --- | --- |
| Creepage Distance | 76mm |
| Mechanical Failing Load | 89kN |
| Power Frequency Dry Flashover Voltage | 40kV |
| Power Frequency Wet Flashover Voltage | 23kV |
| Net Weight | 1.8kg |
Functions of guy strain insulator porcelain:
1. Mounted at a height of at least 3 meters from ground level and provide insulation between stay clamps and transmission poles.
2. Primarily used to prevent stay wires from becoming energized from accidentally broken live wires.
3. Low voltage porcelain stay insulator or ceramic guy strain insulator, used in utility pole guy cables to prevent any voltage on the guy caused by an electrical fault on the pole from reaching the lower sections accessible to the public.
Porcelain stay insulator or ceramic guy strain insulator types:
54series stay insulator: ANSI 54-1, ANSI 54-2, ANSI 54-3, and ANSI 54-4 according to ANSI C29.4
GY series strain insulator: GY1, GY2, GY3, and GY4 according to AS standard
Other special requirement according to the customers
You can acquire more porcelain insulator product or insulator picture informaiton by visiting our website. Our insulators have best quality and best price. Hope we will have the chance to cooperate with you and give you the best service.

| | | |
| --- | --- | --- |
| Carton Packing | 12PCS/CTNS | Normal packing and save cost, suitable for a full container quantity |
| Carton With Pallet | | Customer requirement, suitable for bulk cargo and a full container quantity |
| Wooden case packing | | Customer requirement |
Normal Delivery time: 30days
Want to get more info of ANSI 54-4 33kV Guy Strain Insulator Porcelain, please contact to sales@sdinsulator.com