Drawing of 33 kV P-33-Y 900mm Creepage Distance of Pin Insulator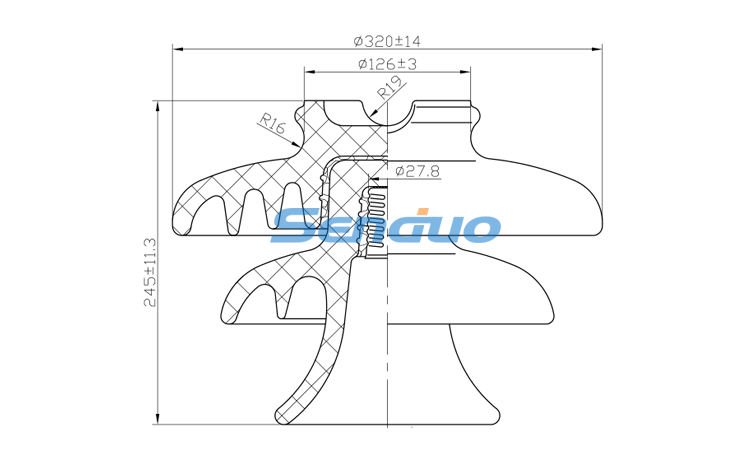 | | |
| --- | --- |
| Creepage Distance | 900mm |
| Cantilever Failing Load | 10kN |
| Power Frequency Wet Withstand Voltage | 90kV |
| Lighting Impulse Withstand Voltage | 200kV |
| Power Frequency Puncture Voltage | 185kV |
| Net Weight | 13kg |
According to IEC 60383 and BS137, porcelain Ceramic pin insulators include the following types:
P-11-Y, P-15-Y, P-22-Y, P-33-Y

All our products are made according to ISO 9001, and most of them were passed the type test in third party lab.. The test report can be available when requested.
And before shipment, all products will be done the factory test in our own lab. We guarantee the quality 18 months from the B/L date.
Want to get more info of 33 kV P-33-Y 900mm Creepage Distance of Pin Insulator, please contact to sales@sdinsulator.com

Pin Insulator Wikipedia:
A rigid insulator consisting of an insulating component intended to be mounted rigidly on a supporting structure by means of a pin passing up inside the insulator. The insulating component may consist of one or more pieces of insulating material permanently connected together. The fixing of the insulating component to the pin can either be separable or permanent(pin insulator with integral pin).
Unless otherwise stated, the term "pin insulator" does not include the pin if separable.
Note:
The pin can have two base shapes. With one shape, the insulating component is fixed to the end of the pin and does not allow contact of the insulating component with the supporting structure. With the other shape, the insulating component is fixed by means of the pin in contact with the supporting structure either directly or with a plate in between, the plate being either a separate washer of part of the pin(sometimes referred to as a pin post insulator).
Identification of insulators:
All our pin insulators has the identifications. Each insulator should be marked, either on the insulating component or on a metal part, with the name or trade mark of the manufacturer and the year of manufacture. In addition, these markings shall be legible and indelible.