Drawing of
ANSI 55-3 Porcelain Pin Insulator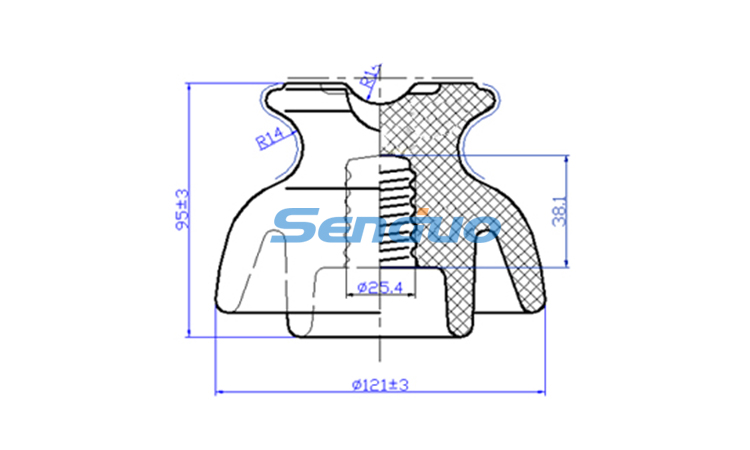 ANSI 55-3 Porcelain Pin Insulator Specification
| | |
| --- | --- |
| Nominal Voltage | 10kV |
| Creepage Distance | 178mm |
| Dry Arcing Distance | 114mm |
| Cantilever Failing Load | 11.1kN |
| Power Frequency Dry Flashover Voltage | 55kV |
| Power Frequency Wet Flashover Voltage | 30kV |
| Radio Influence Voltage | |
| Test Voltage to Ground | 10kV |
| Maximum RIV at 1000kHz | 5500/50µV |
| Net Weight | 1.12kg |

Insulator Types:
For the purposes of IEC 383, overhead line insulators are divided into the four following types:
-pin insulators
-line post insulators
-string insulator units, divided into two sub-types:
a. Cap and pin insulators
b. long rod insulators
-insulators for overhead electric traction lines
Note: insulators for overhead traction lines are normally insulators of one of the first three types above, with or without special adaptations of the metal fittings, designed for use on overhead electric traction lines.
Insulating materials:
The insulation materials of overhead line insulators covered by this part are:
-ceramic material, porcelain;
-annealed glass, being glass in which the mechanical stresses have been relaxed by thermal treatment;
-toughened glass, being glass in which controlled mechanical stresses have been included by thermal treatment.
Note:
1. Further information on the definition and classification of ceramic and glass insulating materials can be found in IEC 672-1 and IEC 672-3.
2. The term "ceramic material" is used in this part to refer to porcelain materials and contrary to north American practice, does not include glass.
Want to get more info of ANSI 55-3 Porcelain Pin Insulator Specification, please contact to sales@sdinsulator.com